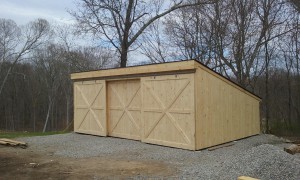 Constructing a new barn or shed can be a lot of work and sometimes you may not know where to start. There are some basic steps that you need to be sure you are following to make sure that your construction goes as smoothly as possible while building your post and beam shed.
The first step is to prepare the site that you will be building on by clearing brush and leveling the site. You can then build the foundation of the building. There are a few different options that you can choose, so be sure to look into which one is best for you.
Once you get the site prepared it is time to have the materials delivered. It is best to get a professional to help during the construction because they will be able to tell you what is needed for unloading the materials. You want to make sure you have enough space for the materials of your post and beam shed, and you also want to make sure that the unloading process will not damage any materials.
After the materials are unloaded, the first bent is created and raised into place. It is then braced securely to ensure that it will not fall over again. This will be done with all of the bents, and then it is time to allow your barn to season. You can paint or seal your barn six months after the building is done and it has had time to weather.
The construction phase of your shed or barn can be a difficult process if you are not sure exactly what it is you are doing. It is important to get professional help to ensure that there is less likelihood for something to go wrong in the construction. Building your post and beam shed should be relatively easy for someone who has experience doing it.