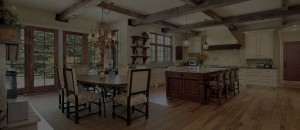 So, you've finally decided to build a timber frame home and leave the high maintenance costs and multitudes of worries behind you as you relax in your new easier-to-care-for house. Inevitably, the question arises, "What about kitchen space?" While it is true that your kitchen and dining space will be somewhat more limited than you may be used to, with a little consideration and careful planning in the design phase, it should not be too much of a problem to overcome.
Now, if you are planning huge extended family get-togethers to feast on Thanksgiving fare, you may have to consider moving the party outside or to another venue. However, your timber frame home can be constructed to accommodate your kids and their families when they visit. The trick is to anticipate what your needs are, and then taking your budget into consideration work with the design and construction professionals on your team to come up with a suitable plan.
One strategy is to design and build completely separate areas for the kitchen and dining rooms. Usually, more consideration and space is given to the living and sleeping areas, especially on a limited budget. One nice idea is to create a distinction between the kitchen and living areas by incorporating different woods or ceiling designs rather than walls that tend to create a closed-in feeling in smaller spaces. These big, open spaces create an airy feeling that makes even a smaller space seem big and roomy.
Get creative. Replace big formal dining tables with smaller, maybe round, kitchen dining tables that are designed to be placed in corners or one end of the kitchen. Relaxed and casual arrangements work well, and help you think of imaginative ways to use the space you have available. Share food prep and eating spaces by incorporating an island with seating on one side. Design your other living spaces to be easily converted into eating spaces when the need arises. This is your new timber frame home, and the possibilities for your new lifestyle are endless.