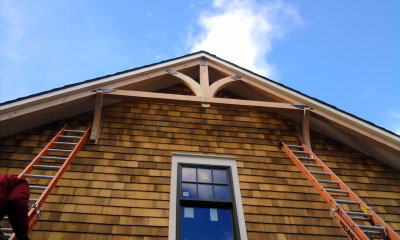 Every material has pros and cons, which makes choosing the right one difficult. To help with the process, take a look at the top five advantages of choosing timber framing for your new home construction.

Major Benefits

While you may be more familiar with other types of housing, consider a timber-framed house. Below you'll find the five benefits of using timber for building a house:

Durability: During construction, wooden poles are built directly into the soil, which provides greater stability in the foundation. The trusses and joists also add more strength to the overall structure.
Energy: The structure is built with plenty of space between the walls so you can add extra insulation. This helps cut down on heating and cooling usage and costs. If energy efficiency is important to you, inform your contractor and ask what other methods you can use to make your home more energy compliant.
Flexibility: Timber framing allows for a great deal of flexibility in the construction. Wood is a natural material that can bend without breaking. More than that, you can design your house in a way that doesn't require load-bearing walls.
Build time: This type of house has a relatively simple build design, which means it requires less time to build. Your contractor could have your new house built in no time at all.
Cost: Besides saving money on energy bills, you can also save during the construction process. It's a simple method for building, which means you can cut down labor costs and building costs. In the end, this type of housing construction is incredibly cost effective.
Contact a Professional Contractor Today

With the facts laid out like above, it's easy to see the advantages of a timber framed house. We recommend you hire a professional contractor to help you design and build a house using timber framing so you can live in a home you love.