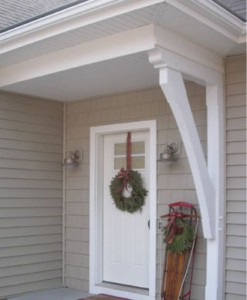 One of the greatest investments you ever make is the purchase of a home. Once you have the home, though, you should consider improving it in various ways. Every improvement you make stands to increase your home's resale value, and that helps to increase the return on investment you will receive once it is sold. The perfect starting place for your home improvement scheme is the front entranceway, and the simplest way to make amazing strides toward having the best-looking house in the neighborhood is to add a post and beam portico! 
A home with such a simple addition wins instant points for better curb appeal, elemental protection, and elevated elegance. These days, you cannot be sure when your home might appear on a social media page for various reasons, but you could be moving toward having dozens of pins on Pinterest if you make your home the sort passersby yell about, "Stop! Let me take a picture of this beautiful home!" Post and beam porticoes help make that sort of stunning impact, yet they are relatively inexpensive to add, considering the value they represent in the long run.
This simple improvement increases your beauty return on investment considerably, but it also helps cut down on energy expenses and maintenance costs. The shade and shield provided help to protect your entranceway from sun, rain, and even wind. This ensures that your energy bills will decrease and the sorts of repairs that weathering leads to will be minimized.
The improvement most often noted by those seeking and those who have already achieved this addition to their home is the elevated elegance it affords. More than functional and eye-pleasing, they are also time-honored standards of elegant homes where wonderful things happen. Your own portico is sure to become a stage for photographic opportunities and memories to last a lifetime.
To learn more about the benefits of adding a post and beam portico to your home, contact us at Post & Beam Homes. We specialize in home additions and improvements and would be happy to provide you with a portico quote, just click here.