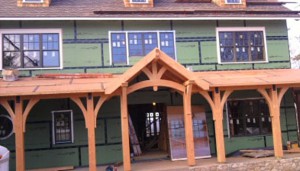 Often confused with the stick frame method of home building, timber framing is much different. With squared-off beams and joints which are fitted individually and secured with wooden pegs, a timber framed house is often referred to as a work of beauty. Another difference between the two building methods is that the walls of the home are connected to the outside of the structure leaving the timber exposed on the inside. Additionally, because timber framing has been around for centuries, it has proven to have several advantages over other types of building methods. Here are just a few:
Using large posts and beams, many homes built several hundred years ago using this construction method are still standing and being actively used. Experts suggest that as the timber frame dries and hardens, it becomes stronger and more durable. The strength of toughened wood can also help the home resist extreme weather, dangerous winds, and earthquakes. As it dries, the thick, hardened wood also becomes fire-resistant.
Considered eco-friendly, large timber construction has many advantages over other types of wood home building. Using less wood than a stick framed house, timber framing is more economical and wastes less of earth's natural resources. Also, because of their large size and inability to ship effieciently, the oversized timbers encourage the use of local resources. Additionally, with large areas of space between the timbers, adequate insulation is encouraged, and an energy efficient home can easily be created.
The beautiful joins and exposed wood beams can add warmth and charm with vaulted ceilings, pillar doorways, or supported arches. The openness of the floor plans also highlight the character of the beautiful stained wood.
A timber framed home is a sustainable home that is energy efficient, yet beautiful. With advantages over other building methods, the open floor plans encourage light, and the huge timbers provide strength. A qualified contractor can answer questions and help create a home for almost any budget using the timber framing construction method.