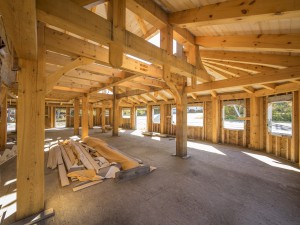 Over time, barns have been built for a variety of different uses, although they are most commonly used for livestock and agricultural purposes. However, as time has gone on, the various designs of these barns have changed. Where you may see a post and beam barn, you may also see a domesticated barn. There is a history behind the different designs that you see in barns today.
Until the 1900s, timber framing was one of the most common building models in the United States. After the Industrial Revolution, the buildings became "light frame" or "stick building," meaning that small pieces of lumber created the frame of the barns. During the timber period, the post and beam barn was one of the first types of barn in the United States. These trends continued until sometime in the 20th century, and some are still used today.
Domesticated barns are the barns that were used to store the harvest and keep livestock. The most common type of domesticated barn is the pole barn, sometimes also called the cattle barn. This is where the roof extends over a series of poles. The roof is often shaped like a semi-circle. These barns are relatively cheap to build and allow for a large amount of storage. They are also more easily accessible by vehicles. The design is relatively simple and the materials have commonly been light metal or canvas. Depending on what the barn is being used for, the style may vary from barn to barn.
Whether you choose to build a domesticated barn or a post and beam barn, there are a lot of advantages to either option. The important part of choosing between the two is to understand what they were first designed for and how their designs influence what can be done in the barns. This will help you determine which style is right for your purposes.